PNS website http://www.pnsociety.com/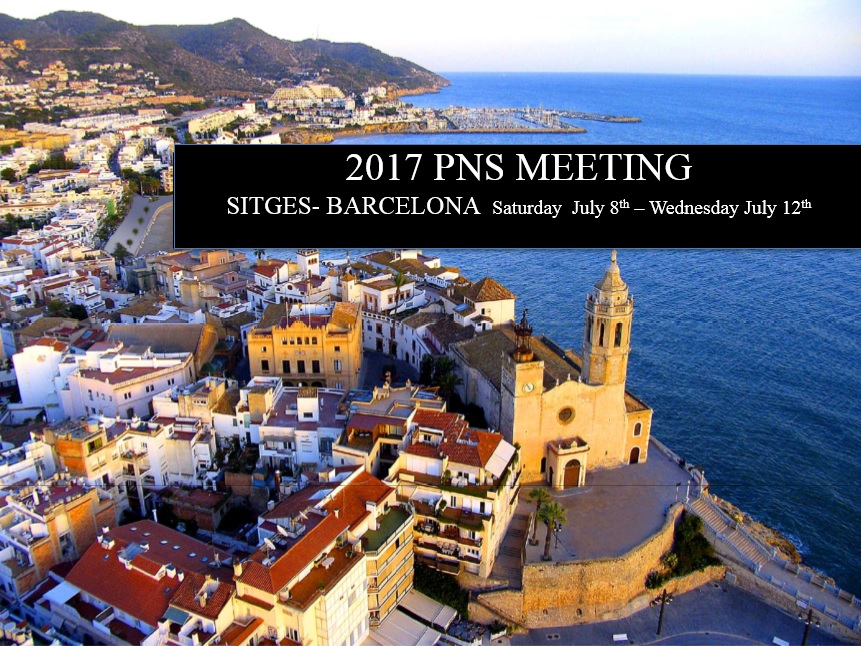 2017 PNS Meeting
The annual meeting of the international Peripheral Nerve Society 2017 will take place in Sitges (Barcelona), Spain.
Online registration to 2017 PNS Meeting are now closed.
---
Onsite registration will be available from afternoon 7 July 2017 at Melià Hotel, venue of the congress.
See you in Sitges, Barcelona
If you like to have more informations on 2017 PNS Meeting
please send an email to pns2017@theoffice.it
2017 PNS Meeting- Organizing Secretariat
Programme
REGISTRATION FEES & ONLINE REGISTRATION
Online registration to 2017 PNS Meeting are now closed.
---
Onsite registration will be available from afternoon 7 July 2017 at Melià Hotel, venue of the congress.
See you in Sitges, Barcelona
If you like to have more informations on 2017 PNS Meeting
please send an email to pns2017@theoffice.it
2017 PNS Meeting- Organizing Secretariat
---
DEADLINE for Online Registration
Online Registration will close on 23 June 2017. Later that date, only ONSITE REGISTRATION will be available.
---
PNS Members
Pay dues now and get reduced Registration fees
Non members have the unique opportunity to join PNS. Pay the annual dues and select the Member registration fee.
Join the PNS
| | |
| --- | --- |
| Membership Fees | |
| Regular Member | € 175,00 |
| Junior Member | € 80,00 |
Registration Fees
Early Bird
(until 10 April '17)
Full Fee
(after 10 April '17)
Member
€ 675,00
€ 775,00
Junior / Trainee Member
€ 550,00
€ 550,00
Non Member
€ 850,00
€ 950,00
Junior / Trainee Non-Member
€ 550,00
550,00
Registration fees include attendance to the Scientific Sessions, the conference kit, coffee breaks, lunches, Opening Reception (Saturday 8 July), Closing Dinner (Tuesday 11 July)*, certificate of attendance**.
*Opening Reception and Closing Dinner will be granted for those participants who will confirm their attendance during online registrations.
**Certificate of attendance should be requested at the end of the Meeting. It will be sent by email one week after the Meeting.
| | |
| --- | --- |
| Accompanying person fee | € 370,00 |
(required for each guest age 12 and above). It includes full participation in program, all meals and all other meeting activities except scientific sessions.
Important notes for Junior attendees (under 40)
The PNS Board has agreed to provide FREE registrations and PNS membership to
Junior attendees who present abstracts that are selected for Oral Presentation, Oral Poster or Poster Presentation.
Junior attendees from Group A & B countries

** FOR US AND CANADA CREDIT CARD HOLDERS **
For participants from USA and Canada and possibly other countries, before you register for the meeting with your University/Institute credit card, please notify your credit card company (VISA or Mastercard only) that you are registering for a meeting in Europe and ask for the relevant authorization. This will prevent any potential problems with registration.
Cancellation policy
Cancellations should be made by sending a written notice to pns2017@theoffice.it or a fax +39.040 368808.
Before 10 April, 2017: the registration fee will be reimbursed minus 20% for administrative charges.
After 10 April, 2017: no refund will be possible
Abstracts / Presentations
1. Oral presentation
Time allotted is 10 minutes + 5 minutes for questions.
Powerpoint presentations are required.
2. Oral poster presentation
Time allotted is 3 minutes to briefly present the main message of your poster + 2 minutes for questions. The PNS oral poster presentation format to all Oral Poster presenter. Do not use any other format.
Do not forget to prepare a regular poster for the poster session for further discussion.
3. Poster
Make sure your posters are within the dimensions of 37 inches wide x 43-59 inches high (95 cm wide x 110-150 cm high)–portrait orientation.
ABSTRACT SUBMISSION IS CLOSED
Important Deadlines
Abstract submission opens: 1 December 2016
Abstract submission closes: 1 March 2017
Abstracts acceptance notification: 1 April 2017
Abstract Instructions
Please read the instructions carefully and view the abstract template before preparing and submitting your abstract.
Replace the sample title, author listing, author affiliations and abstract text in this template.
Abstracts not complying with minimum submission instructions, not submitted in the proper format, or not including all required fields will be rejected.
Editorial Guidelines
Accepted format
.doc or .docx (Word file)
File name
LastnameN.doc or .docx of first author (i.e. John Smith > SmithJ.doc).
Presenting authors need not be the first author.
If the same author presents more than one abstract LastnameN_2.doc, LastnameN_3.doc etc.
Length
350 words (1 page)
Margins
3 cm up, right and left border and 3 cm down
Paper size
A4, portrait
Title
Arial 12, upper case only, left
TYPE TITLE IN ALL CAPITAL LETTERS
Author(s)
Arial 11, bold, left margin, Type full names without degrees.
Authors to be listed as last name and initials (presenting author underlined).
i.e. (1) Smith J, (2) Smith J, (3) Smith J.
Institution(s)
Arial 11, left margin following the authors names.
Type institution names and location
i.e. (1) Johns Hopkins University, Baltimore, USA; (2) Institution, Town, Country; (3) Affiliation, Town, Country.
Body of Abstracts
Arial 11, justified, single space
The abstract must be in style of JPNS and no longer than 350 words.
The abstract should be one paragraph only and should not contain heading (i.e., do not include Aims, Materials, Results or Discussion).
Images
No figures or tables
Symbols
Do not use Greek letters, if necessary write it in full (i.e. alpha)
Maximum file size
500 KB
Modifications
Should you need to modify your Abstract(s), please write to the Organizing Secretariat abstractpns2017@theoffice.it. DO NOT submit the same work twice.
Disclaimer
The Abstract(s) will be published as they are received; the Organizing Secretariat declines any responsibility in relation to the contents or failure to comply with the formatting instruction.
Registration fee payment
Please note that abstracts will be published only if at least one of the authors has settled the registration fee payment before 28 April 2017.
FREE SHUTTLE BUS SERVICE - closed
Free Shuttle Bus Service is no longer available.
We suggest you to plan your transfer following these tips
Scientific programme committee
Co-chairs
Lawrence Wrabetz (USA)
David Bennett (UK)
Members
Wendy Campana (USA)
David R. Cornblath (USA)
Susumu Kusunoki (Japan)
Isabel Illa (Spain)
Alison Lloyd (UK)
Davide Pareyson (Italy)
Michael Polydefkis (USA)
Mary M. Reilly (UK)
Charlotte Sumner (USA)
Steven S. Scherer (USA)
Carla Taveggia (Italy)
Pieter van Doorn (NL)
Peripheral Nerve Society
Officers of the Society
Mary M. Reilly, President
Steven S. Scherer, President-Elect
David R. Cornblath, Secretary/Treasurer
Michael Polydefkis, Assistant Secretary/Treasurer
Board Members
David Adams
Alessandra Bolino
Chiara Briani
Christopher Klein
Michael P.T. Lunn
Davide Pareyson
Inflammatory Neuropathy Consortium Representative:
Richard Lewis
Charcot Marie Tooth and Related Neuropathies Consortium Representative:
Davide Pareyson
PNS Executive Office
Janel Fick- Executive Director
janelfick@PNSociety.com
Tanya Baker- Communications & Project Coordinator
info@PNSociety.com – www.pnsociety.com
Hotel accommodation
Hotel Booking: opened on December 1, 2016. Please book your accommodations at this link. For requests of groups of 6 or more hotel rooms, please fill out the Group Request Form on the meeting accommodation site.
Meeting Venue
Meliá Sitges
Calle Joan Salvat Papasseit, 38, 08870 Sitges, Barcelona, Spagna
How to reach